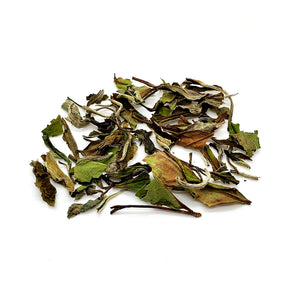 White Dragon - Bai Mu Dan
Part of a collection of teas named after the different chromatic dragon colors. These teas are single origin teas and perfect for brewing gongfu style, but they are also good brewed western style. 
Flavor notes: light, floral, subtle melon
Bai Mu Dan or White Peony is a sweet, mild Chinese tea made from unopened tea buds, as well as the two newest leaves to sprout. The freshly harvested leaf is allowed to wither dry in the sun. The natural oxidation that takes place during this withering gives White Peony beautiful, plush flavors.