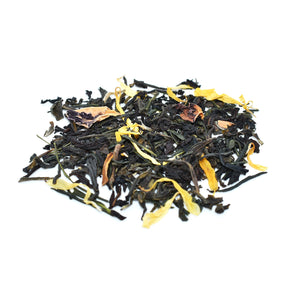 Arbor Ardor
Tasting notes: The base of this tea is jasmine, and I added Japanese sencha to provide a nice vegetal savoriness to balance the sweetness of the jasmine. This helps to make the jasmine not overpowering. In the background, there's just a hint of rose. This tea has almost no bitterness, it's smooth and on the lighter side, with no astringency. It will make a great and refreshing iced tea, but I enjoyed it hot as well.
Blended with: Jasmine Green Tea, Black Tea, Rose Petals, Rose flavor, Marigold Petals.
"Merle Highchurch. You spent your youth languishing in a home that left you unsatisfied, jealous of those outside but too afraid to act. You also harbor a desire for… arbor, that does not bear repeating. Your past sins are sloth, envy, and lust. How do you plead?"