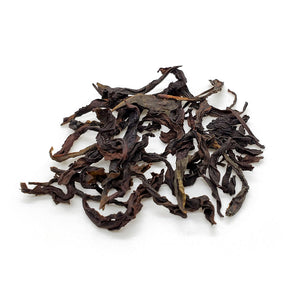 Blue Dragon - Shui Xian Oolong
Part of a collection of teas named after the different chromatic dragon colors. These teas are single origin teas and perfect for brewing gongfu style, but they are also good brewed western style. 
Flavor notes: crisp, mineral, honey, light fruit

Shui Xian, which translates to "Water Sprite," is an oolong produced in a similar style to Wuyi Oolongs. Therefore they share some similar traits, such as peachy-honey notes and a mineral "rock taste." Grown at an elevation of 800 meters, this high-fired, medium grade version results in a rich-tasting amber colored cup with the nuances of minerals, apricots and spice. Great for an everyday oolong option.