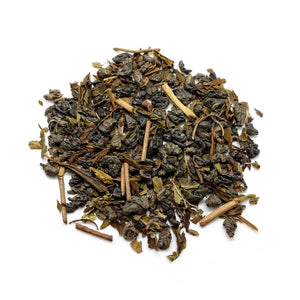 Daughter of the EPA
Tasting notes: A different take on Moroccan mint tea.  The Hojicha adds a really nice roasted flavor to the gunpowder tea and it balances nicely with a minty finish. This would be really great as an iced tea too.
Blended with: Gunpowder Green Tea, Hojicha Green Tea, Peppermint
I think this tea looks like a little wooded area. I like to think Walnut, daughter of the Enclave Panex Anima, would approve.