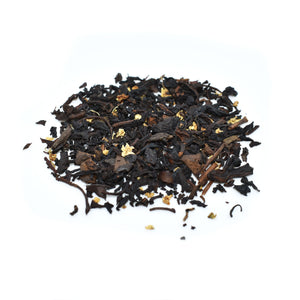 Elderflower Macarons
Tasting notes: This blend is sweet and rich, just like I imagine Taako's macrons would be. No hint of bitterness and almost no astringency. A smooth, rounded flavor.
Elderflower wasn't a flavor I knew much about before blending this, but it's not super flowery like jasmine, and it has a bit of fruitiness to it. It blends beautifully with almond and the rich oolong base of this tea. A little bit of ceylon black tea and cream flavor was added as the delicious filling.
Blended with: oolong tea, black tea, elderflowers, natural almond flavor, organic elderflower extract, natrual creme flavor
"The Director: Hot diggity shit.
Taako: That's what we do. That's how we do it.
The Director: That is a baller cookie. How did you-
Taako: Yeah.
The Director: How did you- h-how did you even do this?"