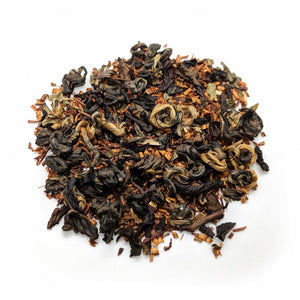 Familiar Frumpkin
Tasting notes: This is smooth with good natural sweetness that leaves a slightly dry finish. The black Yunnan tea blends well with the rooibos and there is just a hint of peppermint, leaving a slight cooling feeling after each drink. The almond and vanilla flavors are very light, but round it out nicely. Would be great as an iced tea.
Blended with: Yunnan Black Tea, Rooibos Tea, Oolong Tea, Peppermint, Natural Almond Flavor, Natural Vanilla Flavor
Frumpkin is Caleb's familiar, and is much of the time a little Bengal cat. As a familiar, it can take the form of whatever the wizard wants. I wanted to show this in the tea using this rolled up yuunan black. It unfurls in the water becoming a different shape.