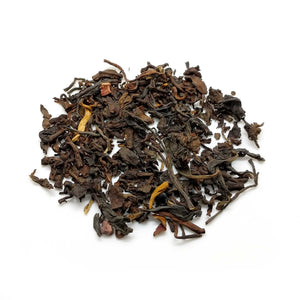 Graveyard Tea
Tasting notes: Smelling this as dry leaf or in the cup, it smells very fruity with an undertone of earth. But taste is a little more earthy and nutty than fruity. It is very smooth, no bitterness at all, with a sweet finish.
Blended with: Pu-Erh Tea, Yunnan Black Tea, Wuyi Oolong Tea, Strawberries, Cocoa Nibs, Natural Strawberry Flavor, Natural Creme Flavor And Natural Hazelnut Flavor
When the members of the Mighty Nein met Caduceus, he brewed them a tea made of flowers that grew on the graves in the graveyard.  But while tending the garden he grew many things. For this tea, I imagined a brew of various mushrooms a few berries, maybe a little bit of moss.