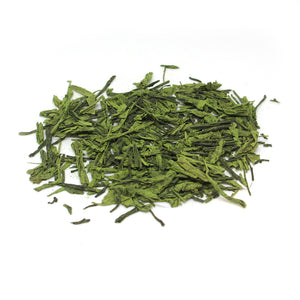 Potential
Tasting notes: This is strong in umami flavor, savory and a little sweet with notes of toasted corn and buttery green leaf vegetables, and a slight bite from sencha's bitterness which to me is similar to the bitterness of semi-sweet chocolate. The bitterness can be reduced with lower water temperature, allowing more vegetal flavors. For a little extra sea vibe, drink this with a little pinch of salt. 
Blended with: Green tea (Japanese and Chinese), matcha powder.
For Fjords tea, I definitely wanted something green. I also wanted a savory, almost seaweed-like tea, and sencha is pretty close to that. But to bring out more rich flavors, I combined it with a steamed Chinese green tea and tossed it in matcha powder for good measure.