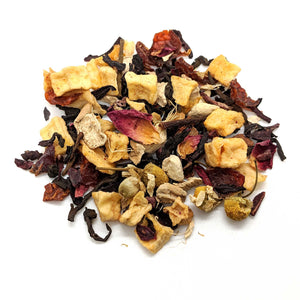 Not Your Grandma's Tea
Tasting notes: This herbal blend is sweet and fruity with apple and pomegranate, but with a hearty kick of ginger to remind you who's the Momfather. It would be great iced, but is still very good hot too.
Blended with: Apple Pieces, Hibiscus, Rose Hips, Ginger Root, Cinnamon Bark, Natural Pomegranate Flavor, Orange Peels, Raspberries And Rose Petals, Pu-Erh Tea, Natural Spice Flavor, Aniseed And Safflower
Rosie Beestinger (not your grandma's grandma, except in the rare occasion that she is your grandma's grandma) is an unassuming elderly halfling monk. But don't be fooled by appearances. She's formidable, as is this tea.