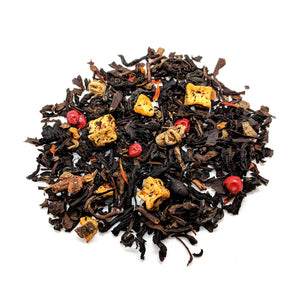 Yum Yum Hut
Tasting notes: The smoky lapsang hits you first with a savory bacon taste, but then the maple and oolong leaves a nice sweet, lingering finish. I made this blend with a little bit of lapsang souchong, which is a tea that is dried over pinewood fires imparting a distinctive smoked flavor.
Blended with: Oolong Tea, Apple Pieces, Cinnamon Bark, Maple Flavor, Cardamom, Safflower, Natural Creme Flavor, Cloves, Yunnan Black Tea, Red Peppercorns
Big Daddy Donaar is serving up some delicious pancakes and bacon for breakfast at his Yum Yum Hut!